Pleasanton, California — On the heels of their recent Series B fundraising announcement, Lambda School has just signed a partnership agreement with CodeDoor, a German-based nonprofit providing scholarships in coding to women, migrants, and refugees. This partnership will enable CodeDoor students to become software engineers by joining one of Lambda's recently-launched EU cohorts and receiving tutoring and career coaching from CodeDoor's talented staff.
"Our two organizations compliment each other incredibly well, so we're thrilled to make this official and start providing new career opportunities for even more students in Germany and beyond," said Aaron Neuenschwander, Head of Strategic Partnerships at Lambda School.
As part of the agreement, CodeDoor will help identify and prepare interested students for one of Lambda School's available EU cohorts. Once students are enrolled into Lambda School they'll be able to lean on CodeDoor tutors for support in difficult concepts. They'll also receive additional career coaching and networking opportunities from CodeDoor. CodeDoor has deep and respected connections in the European tech industry, ones that will afford Lambda students even more employment opportunities.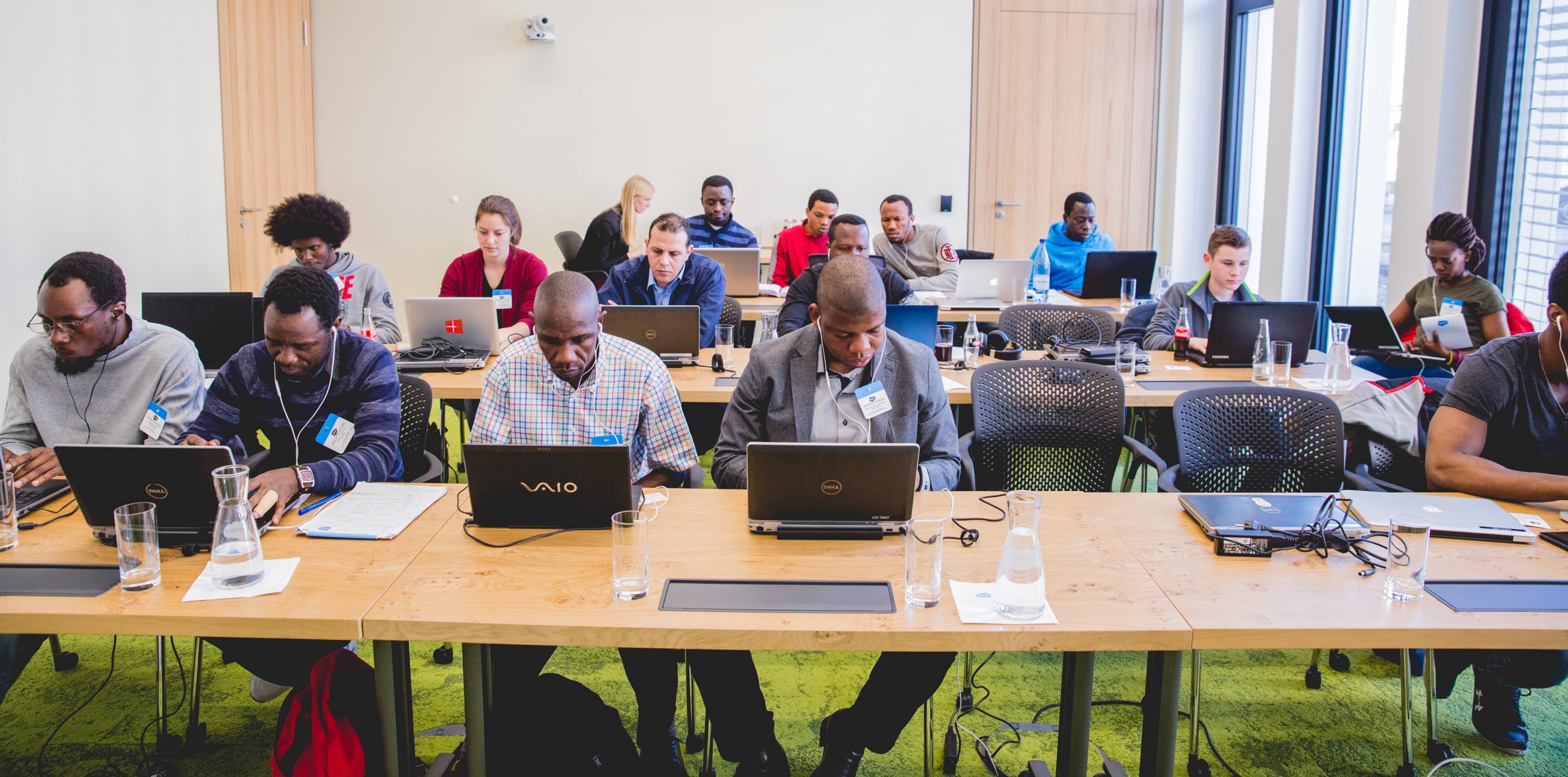 Students hard at work at CodeDoor in Munich
Lambda School's business model has opened up doors to students who previously could not pursue a world-class technical education due to a number of factors, including cost and location. In much the same way, CodeDoor has facilitated economic mobility and social integration for individuals from underprivileged and underserved communities. These largely untapped communities in the tech sector could play a big role in narrowing the skills gap which currently exists in the marketplace.
"We see this partnership as being a very important piece to ensure we hit our goal of helping 1,000 women and other untapped groups launch a new tech career within three years," said Karan Dehghani, Founder of CodeDoor. CodeDoor recently launched the aforementioned initiative entitled Code1000 - with the goal of helping 1,000 individuals launch a new career in technology.
Many of the CodeDoor students who want to get into computing jobs are highly skilled and motivated individuals, but they simply haven't had appropriate opportunities. While some of the students have previous tech experience, there is no prerequisite of a tech background or college degree to join their program (nor is it for Lambda School students). CodeDoor and Lambda School are searching for individuals with an aptitude towards learning and using technology, who exhibit an ambition to pursue a career in the ever-changing tech sector.
The combined strengths of Lambda School and CodeDoor will make this partnership a solid and steady pipeline of talent for EU employers. If you're interested in learning more about the partnership, please reach out to Nora Schimang, nora@codedoor.org.
Media Links:
Lambda YouTube Video - https://www.youtube.com/watch?v=gLdXxFS8BV4
CodeDoor Link - http://www.codedoor.org
###
Contacts:
Aaron Neuenschwander, Head of Strategic Partnerships
Lambda School
Nora Schmiang, Head of Communication
CodeDoor
###
About Lambda School
Lambda School is a Computer Science academy that trains people to become software engineers and data scientists at no up-front cost. Lambda School's mission is to remove every possible barrier to a world-class education and become the best place in the world to launch a new career. Instead of paying tuition, students agree to pay a percentage of their income after they are employed, and only if they're making $50K or more per year. Lambda School has five tracks: Full Stack Web Development (80% of student body), Data Science, iOS Development, Android development, and User Experience. Lambda School is backed by some of the world's leading investors, including Google Ventures, Y-Combinator, Bedrock Capital, Sound Ventures, GGV Capital and Stripe.
Web address: http://www.lambdaschool.com
About CodeDoor
CodeDoor is a non-profit company based in Frankfurt, German focused on providing skills in technology to women, migrants, and refugees. CodeDoor is an educational network of developers at all levels of expertise and companies of all sizes. When joining the CodeDoor network, students will be matched with great coders and companies. CodeDoor enables students to learn the skills tailored to the needs of the particular company. CodeDoor also helps students to build their own startup. As of January 2019, CodeDoor has helped ~750 people to learn how to code and find a job.
Web address: http://www.codedoor.org/